Taxongo.com (TOG), launched in 2015 was taken over by the TIOL Pvt Ltd in 2019. It intends to cater to that end of the market which is not looking for an avalanche of content relating to all the sectors of the economy. It has a huge e-library of judicial decisions relating to the indirect taxes, income tax, foreign taxation and transfer pricing. In addition, it has hundreds of cases relating to Allied Acts.
Apart from case laws we also have a rich library of Notifications, Circulars, Instructions and Public Notices issued by the CBDT, CBEC, DGFT, Ministry of Commerce, RBI, SEZ, Ministry of Corporate Affairs and also Ministry of Finance. To help research vital contents relating to Union Budgets or High-Powered Expert Panels we offer two dedicated kitties namely the LIBRARY & the MIXED BAGS. Both are truly treasure troves of important information and experts' wisdom.
In days to come, based on feedback of our Users, we will be adding more content to our Library apart from regular TOG FEEDS which we deliver in the mail box on daily basis. TOG News Feed contains the latest judicial decisions from the Supreme Court, High Courts, ITAT, CESTAT, CBEC, CBDT, RBI and others.
TOG also provides an expert's column i.e. THE INSIGHT. In this Column all sorts of experts and our own editorial persons express their views on topical policy-making and judicial decisions and other issues.
TOG Team
Managing Editor, CEO & Founder Editor: Shailendra Kumar, founder and CEO of TIOL started his career with The Indian Express Newspaper in 1990 and then moved on to The Economic Times where he worked for more than five years before taking the entrepreneurial route to launch TIOL, an idea based on business needs which he realized as a financial journalist. His vision was to create a knowledge-driven company which eased the burden on corporations & acted as a media watchdog for Indian tax and trade policies. He spearheads the business in all of its facets, including regular interactions with various policy makers and administrators, and managing the editorial and news gathering team at TIOL. Mr. Kumar holds a Bachelor of Economics Honours degree from the University of Delhi, and has a Post Graduate Degree in Mass Communication from the Indian Institute of Mass Communication. He was the recipient of the 2001 Outstanding Media Professional Award presented by the India International Professionals Forum. He is also the First Recipient of CERTIFICATE OF MERIT conferred by the World Customs Organisation headquartered at Brussels. He writes a much-awaited and widely-acclaimed weekly column for TIOL - The Cob(Web).
| | |
| --- | --- |
| | |
He has also authored a book "It's Raining Black! Chronicles of Black Money, Tax Havens and Policy Response" that talks about policy measures framed by the government to tackle the menace of illegal funds in the country and abroad. It also contains anecdotal incidents of action undertaken by various financial law enforcement agencies like the Central Board of Direct Taxes (CBDT), Enforcement Directorate (ED) and Department of Revenue Intelligence as part of their mandate. The book is a compilation of the articles he wrote on Black Money in his weekly column "The Cob(Web)" published every Thursday on Taxindiaonline.com. The book is published by LexisNexis and has a foreword by the Chairman and Vice Chairman of the Special Investigation Team, Justice (retd) M B Shah and Justice (retd) Arijit Pasayat respectively.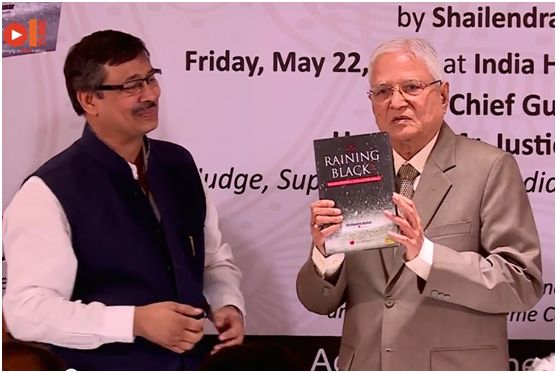 Justice MB Shah releasing the book
Consulting Editor: Sunil Achutan, a Chemistry Graduate with a Diploma in Business Management and a Law degree is a prolific writer and has contributed erudite articles for TIOL as well as ECR & ELT. As a faculty member at NACEN, Bhandup, Mumbai, he has delivered lectures on the intricacies of the Central Excise law for the past many years. He was also a prominent speaker at the workshops conducted by the Settlement Commission, Customs & Central Excise. With a deep understanding of the indirect tax law and more than two decades of experience in the department, Sunil brings with him immense analytical skills to add value to the editorial worth of TIOL.
International Trade Consultant: Dharmendra N. Choudhary, Washington DC based Foreign Trade Consultant at the largest US law firm on Customs and International Trade issues, GDLSK LLP, and a Vice-Chair of American Bar Association's International Trade Committee, advises on international trade issues including Anti-Dumping. Over the past decade, he has successfully argued several landmark and precedent-setting Anti-dumping cases before the New York based US Court of International Trade and Washington DC based administrative agencies, Department of Commerce and International Trade Commission. He has been extensively featured and interviewed in global print and electronic media. He is recognized as a thought leader on trade issues and a globally renowned expert on surrogate value issues that is critical to the outcome in Anti-dumping cases. His articles have been published in several reputed journals around the world, immensely benefitting the trade community. His writings have also been prominently featured by several foreign governments, evidencing the impact he has made on policy makers around the world. An ex-Additional Commissioner of Customs, he served the Department for 13 years in various capacities. He holds a B. Tech. Mechanical Engineering from IIT, Kanpur and LLM from New York University School of Law. He has contributed several articles to TIOL over the past 15 years and his extraordinary wide-ranging expertise is a significant value addition to our consulting team.
Assistant Editor: Pankaj Bajpai is a law graduate from KIIT University, Bhubaneswar. Prior to joining TOG, he has worked with a couple of reputed law journals in the capacity of Editorial Executive. He has authored articles on Taxation Laws & Sociology which were published in international journals of Netherlands and California. He has also worked with General Insurance Company in the capacity of legal claims officer.
Assistant Legal Editor: Anuj Saxena is a law graduate from Amity Law School, Delhi. Prior to joining TOG, he has worked with several law firms dealing with indirect tax laws, competition law and environment laws. While in college, he also authored a research paper on the taxation of e-commerce transactions. Having a work experience of about two years, he specializes in Customs, Central Excise, Service Tax and competition law domains.